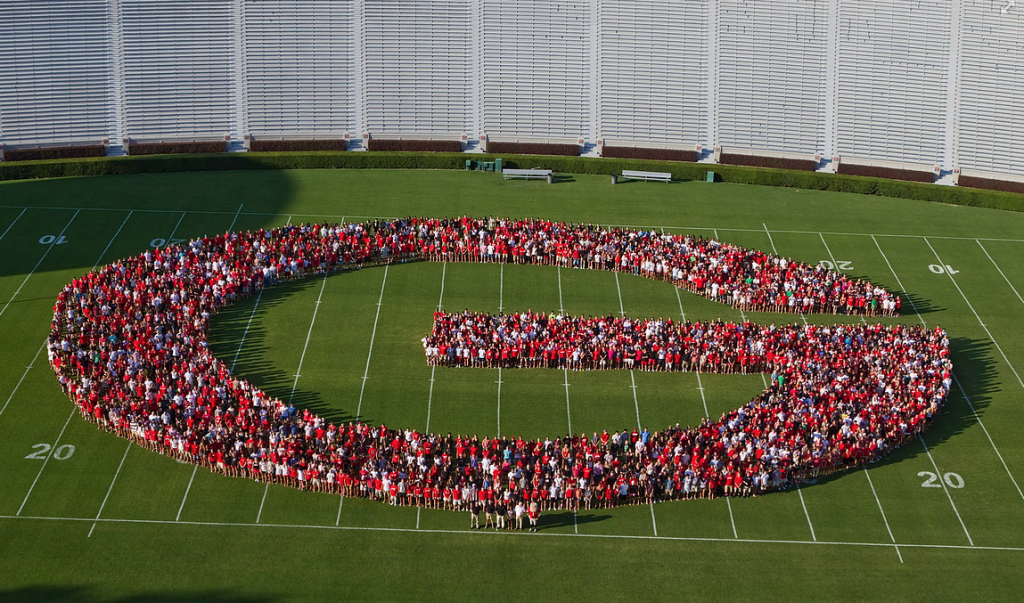 Every Game Day Saturday, UGA students crowd into Sanford Stadium to cheer on the dawgs – but when do you get an opprotunity to actually go on the field? SGA's Freshman Welcome allows incoming students to get between the hedges before graduation. 
Beginning in Summer 2011, the Student Government Association and UGA Alumni Association's Student Alumni Council partnered to start a new UGA tradition welcoming the incoming freshmen and transfer students.  More than 3,500 first-year students gathered at Sanford Stadium for welcoming words from President Michael F. Adams and Head Football Coach Mark Richt. On hand were members of the Redcoat Band, Hairy Dawg and the UGA cheerleaders. The students then filed onto the field, where they were photographed in the form of a human G.
Freshman Welcome is now an annual event, hosted the day before the first day of classes. Freshman Welcome is listed in the "G-Book" as tradition #4.  The event continues to grow each year with the help of the UGA Parents & Families Association, Dawg Camp, Arch Society, Student Alumni Council, Orientation Leaders and other groups on campus.  Before forming a human G on the field, students hear welcoming words from the University President, Head Football Coach, Student Government Association President, and Student Alumni Council President.  Additionally, students learn and practice the football cheers in preparation for their first game "between the hedges" as students at the University of Georgia.