Senatorial Candidates: Terry College of Business
There are 9 seats open for Terry College of Business and 11 candidates running.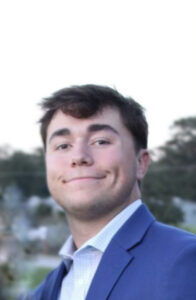 The student body at the Terry College of Business at the University of Georgia will benefit from my involvement in the Student Government Association (SGA) as a College of Business Representative in the following ways: 1. Improved communication: I will serve as a liaison between the SGA and the Terry College of Business, ensuring that the concerns and needs of the students are effectively communicated and addressed. 2. Representation and advocacy: I will represent the students in the Terry College of Business and advocate for their interests, ensuring that their voices are heard and their needs are met. 3. Career development support: I will work to establish a comprehensive career development program for business students that includes career fairs, networking events, workshops, and mentorship opportunities. This will help equip students with the skills and connections they need to succeed in their chosen careers. 4. Access to resources: I will work to ensure that the students in the Terry College of Business have access to the resources and services they need to succeed, including academic support, funding opportunities, and extracurricular activities. 5. Increased participation: By involving the students in the Terry College of Business in the decision-making process and promoting their active participation in SGA activities, I will help foster a sense of community and engagement among the students.
As a student government representative at the Terry College of Business at the University of Georgia, I aim to complete the following three initiatives during my term in office:
Career development program: I will work to establish a comprehensive career development program for business students. This program will include career fairs, networking events, workshops, and mentorship opportunities to help students develop the skills and connections they need to succeed in their chosen careers. Additionally, I will work with local businesses and alumni to secure partnerships and sponsorships to support this program and ensure its success.

Student engagement: I will work to increase student engagement in SGA and campus activities by organizing events and initiatives that encourage student participation. This will help foster a sense of community among the students and promote a positive campus culture.

Improved academic resources: I aim to work with the administration to secure additional funding for the Terry College of Business to improve academic resources, such as computer software and instructional materials. This will help ensure that students have access to the resources they need to succeed academically. Additionally, I will work with faculty to identify areas where additional resources are needed and advocate for their acquisition.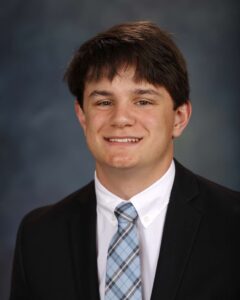 The Student body would benefit from me being elected because I am experienced as a senator. This would be my second year of being a member of the Senate and while I have very much enjoyed my time doing so, I feel I am just getting started with the different initiatives I would like to undertake. Another reason is that I understand that I am only a representative of the student body as a whole, and therefore will spend my time listening to what my peers have to say and push their initiatives.
The First initiative I would like to put forth is to work to improve SGA visibility to the rest of the campus. Have people understand that we are here and that they can come to us to try to get different initiatives passed on their behalf. I would maybe do this through a google forms link where students can post different ideas they have.

Second I would like to promote the dozens of different resources that the University offers us as students. As I believe many of these great people and resources fly under the radar and could help benefit many students in need that just don't know about them. Such as Student Care and Outreach that has helped me a lot during my time as a student.

Lastly, after much deliberating on Senate this year, we have discovered that there seems to be a large trash collection problem on campus. Where Trashcans will be overflown with trash for hours at a time without being taken away, to the point where people will just put trash on top of or around the actual can. This, I feel is not just a collection problem but also a problem with the total number of trash cans on campus. So I would like to maybe increase the number of garbage cans on campus as with the size of our student body constantly increasing so will our trash output as well.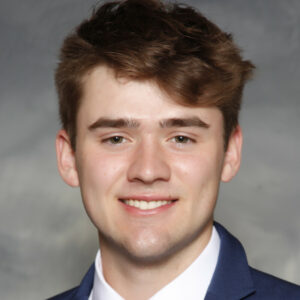 From my experiences on campus, I know what it takes to be fully committed to something, and this is one of those opportunities that I can be fully committed to. I know that Terry is already in great hands and is thriving, but when we get comfortable with where we are, we start to decline. For that sole reason, we should keep pushing forward to make these great schools even better. I think there are some sectors of Terry that could use more support and I know the student body will be the recipient end of the initiatives I want to complete. Creating equal opportunities for people in and out of Terry is what I am seeking to do, and the initiatives such as creating collaborative and inclusive opportunities between Terry and other schools create. Giving the student body more access to ways they can succeed after college, and make connections that help them professionally is my ultimate goal for those I hope to represent humbly.
Actively inviting Alumni and corporations to create learning series for designated majors, creating more inclusive opportunities for other schools (UGA schools) to have experiences in the Terry Community, Continuing to expand recruiting and on campus engagement with corporations that want to be hosted on campus and get to know students and their skills and abilities.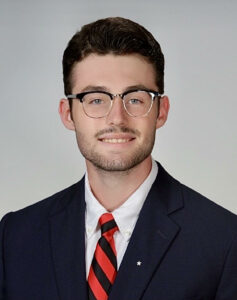 Marc Weatherington (Adapt)
As a candidate for reelection to the University of Georgia's Student Senate, I am dedicated to advocating for the needs and concerns of the students within our institution. If elected, I will work to further enhance the student experience by focusing on increasing resources and opportunities allocated to the Terry College of Business. I will work to improve communication between the student senate and the Terry College of Business, ensuring that all students have a voice in the decisions that affect their education and experience. Additionally, I would like to expand networking events offered by the University for Terry students. The student body would benefit significantly from my continued service on the Student Senate, as I will work tirelessly to ensure that the Terry College of Business is a place where students can thrive academically, personally, and professionally.
If I am reelected to the University of Georgia Student Senate, I plan to take many initiatives head-on for the betterment of our college. Firstly, I plan to advocate for the expansion of networking events for Terry students. I believe that healthy professional and personal relationships are key to success. Furthermore, the Terry College of business should be doing more to connect students to future employers and one another. Additionally, I believe that many certificate programs within Terry are under-advertised and underutilized by students. If elected, I plan on creating a platform where students of all colleges can easily track their progress toward a certificate. Lastly, I would utilize the platform of SGA to help new and upcoming student organizations within Terry gain membership and grow.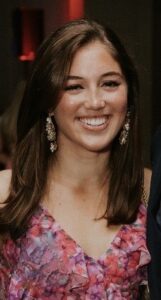 After spending three semesters in the Terry College of Business, I have been exposed to peers and professors who have taught me countless lessons that I have taken beyond the classroom. Because of my passion for Terry and my commitment to its values, I would welcome the opportunity to represent the interests of its students by serving them as their senator. I would make it my priority to lead my peers in the best way possible, while fostering relationships beneficial to our college.
As a Terry senator, I would be more in touch with the Terry population to better serve the community. I would host a monthly tabling session for students in Casey Commons to submit requests and voice needs to their senators.

As a Terry senator, I would advocate to place trash cans and recycling bins in the Coca Cola Plaza and outside the various buildings of Terry. I have noticed an absence of trash disposal for students in these areas when entering and exiting Terry. Trash cans would provide ease and convenience for students.

The Terry student experience starts on the campus of UGA as a whole, not just in the Business Learning Center. It has come to my attention that many crosswalks in the areas surrounding Terry feel unsafe for students walking to class. As a senator, I would advocate for the placement of more signage around these crosswalks to increase awareness and safety for my peers.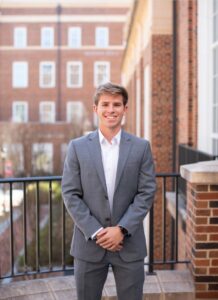 The student body will benefit from my involvement in the Student Government Association from my previous experience in the past two years. I have been working with administration and faculty on campus to push initiatives through and have learned what is possible as someone in Senate and what is outside our scope. I hope to bring this experience to individuals that may be new in the Senate in the next administration.
I hope to bring new menu items to dining halls. I have already been talking with Dining Services to see through the items.

I hope to also help Dining Services with their staffing shortage, so that we can bring back items in the dining halls like milkshakes.

I hope to bring more accessibility of microwaves on campus. Many students bring their lunch and have a hard time warming up items that may be more pleasant to eat warm.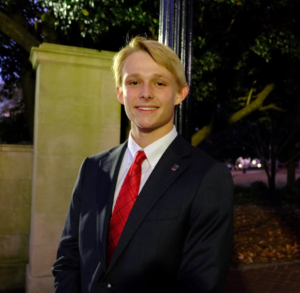 As a member of the UGA Senate, I am committed to representing the interests of our diverse student body within the Terry College of Business. Having served a full term as a first year senator on the educational affairs committee, I have experience working with my fellow senators and administration to follow through on initiatives. For example, this past semester I worked with Sen. Keyes to write legislation in favor of constructing a pickleball complex for students. Through this resolution and our work with administration, there will now be a six court complex on campus. A senator has to be willing to listen to those they represent, and I would I always be willing to do so to improve the student experience.
First, I would like to work with the city of Athens to encourage the distribution of Narcan/Nalaxone in the downtown area to protect students beyond campus. There have been too many easily preventable opioid-related overdoses in Athens. Second, I'd encourage professors to display cumulative grades on eLC. Third, I'd support a varied dining menu, especially for those with specific food allergies.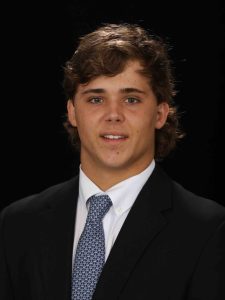 Charlie Wickliffe (Adapt)
The student body will benefit from my involvement in the SGA due to my proficiency to reach out and obtain the goals and aspirations from our fellow classmates and commit myself too creating change. I hope to accomplish multiple goals for myself by writing legislation to ease stress on the terry student body and enhance UGA's mental health awareness.
One objective of mine is to work with the sunshine fund and try to continue the mental health awareness and outreach for students. My second goal will be to help change parking for dorm rooms so that only people living in the dorm have access to said dorms parking lot. And lastly, I hope to cement a resolution or other piece of legislation to start the process of change in the way that UGA handles retaking classes once previously failed.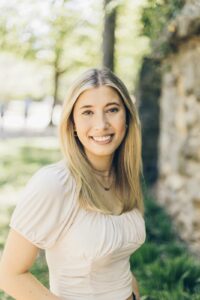 I am running for this position for many reasons. I will actively work to improve the quality of life for the student body, along with the university community as a whole. Students turn to sga members first when there is an issue on campus that needs to be addressed, such as an improvement to student transportation. I feel that I can help amplify their voice. In my experience, the University of Georgia transportation system has been a challenge. From buses not being on time to not being able to accommodate all passengers, I feel that there can be a lot of improvement to this system. Some ways to improve this issue would be to increase the number of student bus drivers, increase the pay from $12 an hour to a liveable wage, and increase the number of buses running each day. These solutions will ease overcrowdedness and promote higher levels of student safety and comfort on campus. If elected as a Senator, I will do my best to prioritize this issue as well as work with my fellow peers to improve campus life for everyone.
If elected as a SGA Senator, I will seek to complete many initiatives during my term in office. One of those is related to parking. As most students would probably agree, parking on campus can be a challenge. From having to pay to park to potentially getting a ticket to just having nowhere to park, on campus parking is something I would like to improve during my term. I would work with my peers and campus representatives to try to create more available parking spaces for students, as well as make more parking spaces free to avoid potential tickets. I also want to work on improving the UGA bus system. Currently, buses are overcrowded and run at limited times during the day. I would again work with my peers and campus representatives to hire more drivers and increase their pay as an incentive. Lastly, during my term I will work to provide additional outdoor seating outside of the Tate Student Center. I think that this will encourage students to be more social, and spend time outside, especially on sunny days.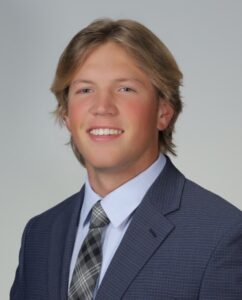 The UGA student body will benefit as a whole from my involvement in student government due to increased visibility, senator availability, and overall unity as a result of our initiatives.
A large focus of my initiatives this term would be follow ups to the initiatives we created this past year. My main focus this upcoming term is increasing pulse app awareness and ELC calendar integration though syllabus requirements. This initiative aims to increase professor usage of the ELC calendar so that it will be easier for students to keep track of assignment due dates and assessment date. Additionally, I want to continue developing the relationship between student government and the recreational and club sports department, aiming to introduce highly requested Intermural sports and continue to improve the operational efficiency of the rec and club sports department. Other initiatives within this field include attempting to install new sports courts to the Intermural sports complex (specifically sand volleyball), following up on our pickleball initiative from last term. Lastly, we want to implement an improved campus booking system to more accurately book study spaces, conference and interview rooms, and outdoor field space and sports equipment.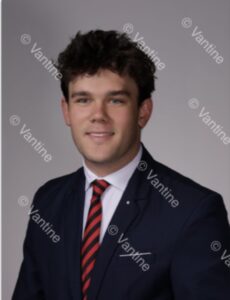 The student body will benefit from my involvement and leadership within SGA because of my ability to unite various groups of people with different beliefs and backgrounds to make a positive impact at UGA, both on campus and the surrounding community. The University of Georgia is comprised of such a diverse group of students and I believe that one of my biggest strengths is leading those groups with a transparent inclusion, adhering to the needs of all students and faculty. As a member of SGA, I would strive to be an extension of the student body, giving everyone on the UGA campus a voice to speak up and address issues to ultimately better the student body. SGA is an organization that connects students and as a member, the student population would benefit from my relentless effort to use my platform and influence to accomplish the difficult, yet essential goal which is to make a positive impact using various opinions and strengths amongst the entirety of the University of Georgia.
I would like to work with the Dining Services to provide students with a wider range and greater quantity of healthy foods at the dining halls.

To fight against drunk driving and increase safety late at night, I would like to increase the amount of discounted Lyft rides for UGA students to ensure students have a safe way home any time of the night.

Many campuses utilize bike or scooter services so I would like to get Bird scooters (or bike/scooter equivalent) to assist students with on campus transportation which would aid commuting students and increase the ability for students to go to class and ultimately be on time.