Senatorial Candidates: College of Pharmacy
There is 1 seat open for the College of Pharmacy and 1 candidate running.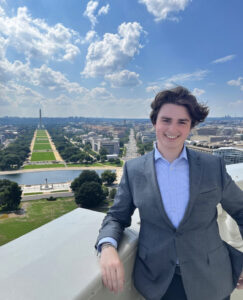 After serving the past year in the SGA Senate, I believe I have the experience to strongly represent all Student Pharmacists and Student Pharmaceutical Scientists in this body. My perspective as a PharmD student, combined with my extensive experience in legislative work at The US Congress and in congressional campaigns, allows me to successfully advocate for the changes our college would best benefit from. I look forward to having the opportunity to continue serving you!
If given a second year in the SGA Senate, I will seek changes to make the senate more representative of the entire student body. My first priority will be to improve the proportions of seats each College/School is given by changing the minimum to two senate seats. Along with that, I will advance legislation to alter the method by which seats are allocated to ensure all students are adequately represented.

Secondly, if given a second term, I will further promote pharmacist inclusion on campus by encouraging more vaccine & other on-campus rotation sites. With more rotation sites within campus, we can cut down the necessary travel and other expenditures required of student pharmacists in order to complete our requirements for graduation.

Third, I will use my time in the SGA Senate to advocate for our college. For far too long our college has gone without representation in the SGA Senate. During this time our interests have fallen unheard. If re-elected, I will continue my work to ensure that the College of Pharmacy has a voice in SGA.